Thread setting plugs are to be used to set ring gages only
摘要:
Thread setting plugs are to be used to set ring gages only. Their purpose is setting or re-setting the ring gages and determining if the ring is within tolerance. Setting plugs are not to be used to check the work piece.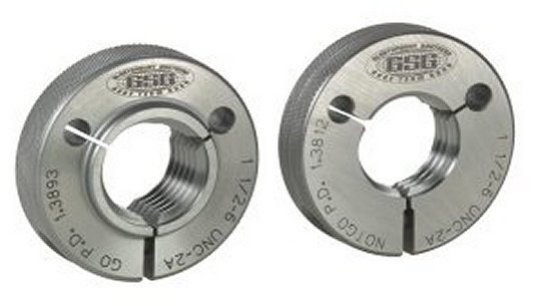 Thread Plug Gages also referred to as Thread Plug Gauges are used to check inside major diameter and pitch diameter limits on threaded parts. Thread plug gages are available in ACME, ANPT, Helical Coil, PG Conduit, Reversible, Reversible Trilock, Straight Pipe, Taperpipe, Taperlock, Thread Measuring Wires, Truncated Setting Plug, Unified Miniature Screw and Variable
Features:
Buy with confidence with GSG 100% satisfaction guarantee
Free technical support from our knowledgeable engineering team with over 100+ years' experience
AGD – American Gage Design
GO or NOGO members
Precision hand lapped and polished to ensure superior accuracy
ASME/ANSI B1.2 and ANSI B1.16M compliant
Manufactured with gage blanks per ASME/ANSI B47.1
Free NIST certificate of accuracy with all thread plug gages
Thread Plug Gages
Thread plug gages are used to check tolerances of threaded parts according to a certain specification. These highly specific calibration tools are used to assure the assembly of mating parts and provide quality control and conformity to standards. Most have two ends: a GO and a NO GO. The GO end must screw all the way on, while the NO GO end must not. The class of fit for each gage measures the amount of tolerance allowed for that class. For example, class 1A has the greatest range of tolerance for unified external screw threads. It is used mainly for parts that need to be assembled quickly and easily, while classes 2A and 2B are the most common and provide a more specific calibration. Class 3A has the closest tolerance and is used for very specific calibrations where safety or strength are concerned. Classes of fit and tolerance vary, so carefully select the class needed for your specific use. Many types of thread gages exist for many different purposes; see below for descriptions.
ACME Thread Plug Gages: This gage is used to check an internally threaded product. Compliant to ASME B47.1 and B1.5-1997, it also comes in three classes of fit: 2G, 3G, and 4G. It also is available with three centralizing ACME threads classes of fit: 2C, 3C, and 4C.
ACME Thread Set Plug Gage: This gage is used to calibrate adjustable style matching ACME thread ring gages. Available in three classes of fit, choose from 2G, 3G, and 4G. Its Centralizing ACME threads classes of fit: 2C, 3C, 4C. Compliant with ASME B1.5-1997 and B47.1.
ANPT Thread Plug Gages: WESTport provides a complete range of Aeronautical National Form Taper Pipe Thread Plug Gages per SAE AS71051. ANPT thread plug gages are intended for use on pipe, plugs, fittings, and similar devices in aeronautical components and equipment requiring a sealed thread joint and where straight threads and gaskets or O‐rings are inadequate.
Flexible Hole Location: Use this gage to inspect the location of a threaded hole in a part and determine the true centerline-to-centerline distances of threaded holes. It is also slotted at 90⁰ increments to ensure a positive location on the thread flanks, regardless of hole size. The center is concentric to the threaded section within .0002' TIR for probe location of CMM's. This product is available in unified and metric sizes. Every gage is inspected in an environmentally controlled ISO 17025 laboratory.
Gage Pins: Gage pins are used to make quick and accurate measurements for GO/NOGO fixed limit gaging and are economically priced. You can calculate distances between holes, gage slot widths, set micrometers, snap gages and measure the size and depth of a hole with gage pins available in both english and metric sizes. Gage pins are two inches long.
Helical Coil: STI Thread plug gages are used to gage threaded holes prior to the insertion of screw thread inserts. The helical coil is very commonly used in the automotive industry. All WESTport Gage Corporation helical coil thread plug gages are class X tolerance and class 2B or 3B. They are GO or NO GO plug members and ASME/ANSI B1.2 compliant. All gages are inspected in an environmentally controlled ISO 17025 laboratory.
Pg Conduit Thread Plug Gages: Pg Conduit Thread Plug gages are used for checking threads of pipe fittings used for electrical wiring. The standard; DIN 40431 P2 Steel Conduit Thread, Thread Gauges, GO and NOGO specifies the requirements for these gages. The Pg thread series is designed specifically for the thin wall cross section of the steel conduit. The thin wall thickness requires a shorter profile thread that will not break through the outside diameter of the steel conduit during the machining process.
Reversible Trilock: The reversible trilock checks the size of the internal threads to make sure that are within designed tolerance limits. It's best for larger thread plug gages—1 ½ inches or larger. The reversible gage members provide two gages for the price of one. It features GO and/or NO GO members, class X tolerance, and a chip groove on the GO member to make identification easy.
Reversible Thread Plug Gage: Use this gage to ensure that internal thread are within the designed tolerance limits. This gage features GO and NO GO plug members, class X tolerance, and ASME/ANSI B1.2 and B1.16M compliance. Reversible gages provide two gages for the price of one.
Straight Pipe: Straight pipe working plug gages are used to check the size of the internal threads of a part. Use this gage to calibrate and set a straight pipe thread ring. It can also be used to inspect the ring gage for wear. Features GO or NO GO members. All straight pipe gages are inspected in an environmentally controlled ISO 17025 laboratory.
Taperpipe: The NPT L1 and the NPTF L1 plugs inspect the functional size or hand tight engagement of couplings or an internal thread. Or the NPTF L3 plug inspects the wrench engagement and taper of couplings or internal threads and is used in conjunction with the L1 plug. Additionally, the NPTF 6 step plug inspects the crest truncation or profile of the internal threads and is used in conjunction with L1 plug. All NPT pipe thread plug and ring gages are manufactured per ANSI/ASME B1.20.1, and all NPTF pipe thread plug gages are manufactured per ANSI/ASME B1.20.5.
Taperlock: This gage checks the size of internal threads to ensure the threads are within its designed tolerance limits. It features GO and/or NO GO thread plug members. All taperlock thread plug gages are class X tolerance. Choose from class 2B or 3B for inch, or class 6H of fit for metric thread plugs.
Truncated Setting: Use this gage to calibrate and set an adjustable thread ring gage and inspect it for wear. The crest of the thread is truncated in diameter for the first half of the set plug and "full form" on the remaining length. The truncated section is used to set the pitch diameter, and the full form section detects flank angle problems or undersize major diameters in the thread rings.
Unified Miniature Thread Plug Gages: WESTport Gage provides a full range of Unified Miniature Screw Thread Plug Gages per the American Standard B1.10M 2004 and the equivalent ISO Recommendation. This thread designation is also referred to as the UNM Series. The threads in this series are interchangeable with the American, British, Canadian and ISO standardization programs. Unified Miniature Screw thread plug gages are intended for use in watches, instruments, and miniature mechanisms.
Variable: This class "W" gage is full form for use with TRI-ROLL and STC Comparators. Variable thread gages are an economical choice compared to GO/No GO gages because of the reduced gaging time. Variable thread gages are for use with ASME B1.3M Systems 21 and 22.
NPT General Purpose (Inch) Pipe Threads per ANSI/ASME B1.20.1
ANSI/ASME B1.20.1 FOREWORD
In 1973, American National Standards Committee B2, which had formerly been responsible for pipe thread standards, was absorbed by American National Standards Institute (ANSI) Standards Committee B1 and reorganized as Subcommittee 20. A complete rewrite of the now obsolete B2.1-1968 standard on Pipe Threads (except Dryseal) was undertaken. It was approved and formally designated as an American National Standard on February 4, 1983 and was reaffirmed in 2001 and 2006.
Specification Numbering
The system of numbering, to include metric conversions, is as follows:
ANSI/ASME B1.20.1, Pipe Threads, General Purpose (Inch)
ASME B1.20.2M-2006, Pipe Threads, 60°, General Purpose (Metric Translation)
These standards, ANSI/ASME B1.20.1 and ANSI/ASME B1.20.2M, have product thread dimensions and gaging in the same document. Thread inspection specifies the use of L1 taper thread gages similar to the long obsolete B2.1-1968. In addition, emphasis was given to the requirement that all basic thread design dimensions were to be met within the specified tolerances.
2013 Revision of ANSI/ASME B1.20.1
The 2013 revision of ANSI/ASME B1.20.1 has both significant and subtle substantive changes to the 1983 revision. It is more explanatory for the user than the previous revision.
Significant 2013 Changes:
(a) An acceptability section has been added, providing a referee method in cases of dispute. This acknowledges the potentially wide but acceptable variation in the prescribed gages and gaging methods.
(b) Figures have been updated with additional information and drawn to be more visually explanatory.
(c) The Turns of Engagement method has been moved to an appendix, due to its inherent gage correlation issues. This gaging method may be used when parties agree, but it is no longer an accepted method within the Standard.
(d) Calculated data have been revised following the rounding rules of B1.30M. This provides a standardized high level of precision in calculation. Some tabulated values changed, but no changes were deemed significant enough to affect the conformance status of products or gages. These changes are generally beyond the margin of error of the required measurements. NPTR, NPSM, and NPSL thread dimensions were not recalculated as some historical methodology, necessary for computation, was not available.
(e) Guidance for tap drill sizes has been updated to reflect varying manufacturing conditions and the wider range of available drill sizes. Instead of specifying drill sizes, the Standard now refers to the tabulated basic minor diameter of the internal thread as a reference in which to base drill size choice.
(f) Added are detailed explanations on the effects of coatings on threads, as well as guidance for pre-coating size compensation.
(g) The gaging point of reference is moved for external threads having chamfer diameters smaller than the minor diameter at the small end. This change was made to help ensure adequate thread engagement over a wider range of product thread chamfers. This change is correspondent to the existing treatment of chamfers for internal threads.
(h) The point of reference for checking wear on working gages is changed to basic. Previously, the point of reference was the size at the time of manufacture. This change facilitates the calibration of gages when the original size at manufacture is not known and standardizes gage sizes at maximum wear.
(i) Gaging guidance for straight pipe threads has been expanded, including allowing the NOGO to enter up to three turns, mimicking ASME B1.2.
(j) The use of indicating gages has been added as a gaging method.
ANSI/ASME B1.20.1 Scope
This Standard covers dimensions and gaging of pipe threads of the following series:
NPT
NPSC
NPTR
NPSM
NPSL
Related Standard: B1.20.7
Hose coupling joints are ordinarily made with straight internal and external loose-fitting threads. There are several standards of hose threads having various diameters and pitches, one of which is based on the American National Standard Pipe Thread. By the use of this thread series, NPSH, it is possible to join small hose couplings in sizes 1⁄2 to 4, inclusive, to ends of standard pipe having American National Standard external pipe threads, using a gasket to seal the joint.